Comments about our work
Please read below kind comments from some of our customers.
Terry Holt - Virage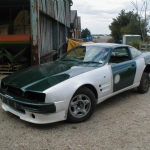 As a long term Aston owner, also the AMOC area rep for South Australia for more than 30 years, who not only has an intimate knolege of the mechanical aspect of the marque, I also manufacture various aftermarket components to enhance the drivability of the 60s through to the 90s models.
Involved in precision engineering, firstly in the UK, manufacture surgical equipment, then later in Australia manufacturing grade one pressure vessels, combined with a decade of motorcycle racing, including riding as a sponsored rider with Suzuki and Honda, this background has given me a very keen eye for detail.
With such a background , requiring precision and accuracy in a wide range of areas, I find it difficult to find people to take on work who have similar standards to my own, this makes it difficult to delegate work, if my expectations are higher that a tradesman I am paying, there is something wrong!
This leads me nicely into my assessment of A.S.R. Body Engineering, Shaun Rush who owns the firm has done some extensive work on Astons for me, not only am I happy to leave the vehicles with him, and his team to carry out work while I return to Australia, I am absolutely confident that the work carried out will be completed to the highest standards.
Combined with this excellent work, any components removed during work to be fitted later, are carefully noted and bagged, so every precaution is taken to avoid any part being mislaid, Shaun also documents progress with photographs, if you are not available to call in to examine the progress in person.
I have, and still do travel a great deal throughout the World, a good deal of my travels are associated with fine cars mainly Astons, giving me a wide knolege of standards of workmanship around the Globe, entrusting your precious and sometimes priceless car to A.S.R. Body's, would be in my opinion a very good decision as they are one of the best body builders I have come across, I will not use anyone else.
D.T. Holt
Tickford Distributors S.A.
Please see this work in our gallery
Stu Higgin - Aston Martin V8
In short; Shaun and the team at ASR took my pigs ear of a V8 and made a silk purse out of it.
The long; As with most of us car guys I had dream; a rusty old Aston and head full of ideas of how I wanted my car to look. It's a rare thing to find someone with the ability to interpret ones ideas in such a faithful way and then apply their years of knowledge to bring ones dreams to life. Shaun has this most elusive gift, coupled with his and his team's enormous skill to make it happen. I would urge anyone with an interesting car body project to contact Shaun first. After all, if his work is good enough for a pernickety pr*ck like me and the Sultan of Brunei you can rest assured your treasured piece of rolling art will be in the very best of hands.
Stu Higgin
Brent Jarrold - AM Virage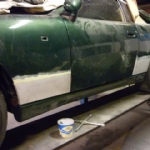 I own a 1990 Aston Martin Virage. Time had not been kind to the Virage and it required both the inner and outer sills to be replaced. This was no small job that required a substantial amount of the body work to be cut away and replaced.

The work was completed at the start of 2011. I was keep fully informed with regular progress updates, photographs emailed to me with the estimated cost. During the whole project, I was delighted that Shaun kept costs down, working to our agreed budget. In my opinion there were no overruns with the time taken and therefore the costs incurred. The prices I was quoted by other repairers were substantially more that what I paid.

Shaun kindly arranged to have the car's sides painted. This is an example of him doing more that what was originally required. He has the appropriate high quality contacts in the industry that can be used to assist you in considering other work if required. During the entire process I found Shaun extremely professional and it was always pleasure to deal with him.

I am enormously pleased with the quality of the work completed. It certainty exceeded my expectations. I believe the work done was extremely good value for money. I was so pleased that I had considered selling the car but after viewing the work completed decided to keep it. I do believe I have added value to the car by having work done by someone who is an extremely skilled craftsman.

If you are able to visit Shaun's workshop you will also see for yourself the quality of the projects being done, from small to large jobs. In my opinion there is no better advertisement that seeing this for yourself.

In conclusion, I have absolutely no hesitation in recommending Shaun's services to anyone considering a small job or for fuller body work restoration on whatever car they are considering. Indeed I have already recommended Shaun to my fellow Aston Martin owners.
Brent Jarrold