Aston Martin DBS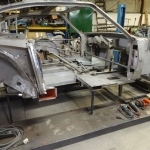 Introducing "Bob" an Aston Martin DBS requiring a lot of love and restoration. The owner has kindly given us permission to share Bob's journey to restoration. We will continue to update this project with photographs and information regarding the ongoing work Bob reqires, but for now, here you can see the poor state of some of the original panels, it would appear that this car has been in an accident at some point in time and most of the exterior panels require some repair and reinforcement.
As we know, Bob requires a lot of TLC, and sometimes in whole car restorations, knowing where to start proves difficult. One area we have started to work on is repairing the rear wheel arches, as you can see from the photographs, and also completely replacing the B Post panels. We manufacture a wide range of DBS parts, which you are able to view here including front and rear B Post Panels, together with the reinforcings, and B Post repair panels front and rear (only rear pictured). If you are undertaking a restoration and require parts or advice, don't hesitate to contact us.
Update: With a whole car restoration such as this, sometimes it seems that whilst the work on one area may take many hours, it doesn't seem to make much difference to the overall appearance of the car, until all of a sudden you can see it beginning to take shape. As you can see from the new photographs added, we have replaced the inner sills as the originls were beyond repair, and for structural security repair isn't always the best option. Together with new front and rear floors and some general repairs and tidy up of the main chassis leg, the work is coming along nicely and we can start to see some real changes since first receiving the car.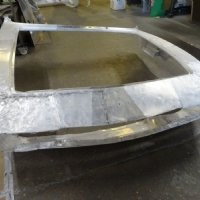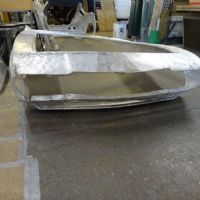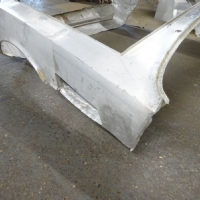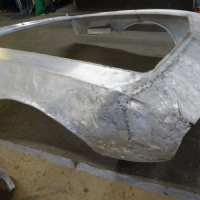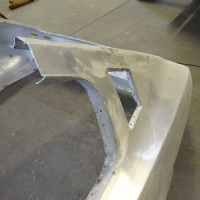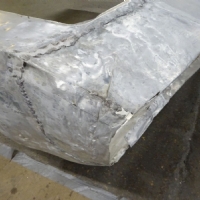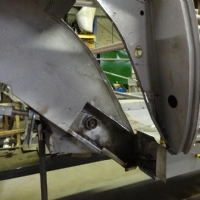 Rear Wheel Arch Repair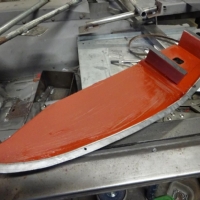 B Post Panel