Welcome
A.S.R. Motor Body Engineering Limited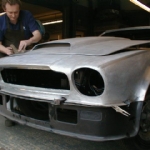 From Vintage to Prototype, Specialist Panel Beaters and Body Engineers
Historic & Vintage bodywork restoration and fabrication
At ASR we pride ourselves on quality craftsmanship.  We specialise in the restoration and re-creation of classic motor vehicle bodywork and chassis but will turn our hand to anything.  Whether you need a repair patch through to a complete new body.  We are happy to discuss any project you may have, from aircraft to tractors, classic cars to pedal cars.
We are always looking for an experienced panel beater to come and join us.  Would need experience in restoring classic cars, various forms of welding, be able to make panels from flat sheet and use an English Wheel/Wheeling Machine.  Ideally full time but would consider part time.  Call in for a chat to see what we do.
Aston Martin V8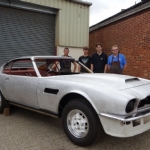 We have a V8 we did some work on for the customer - Andy Stephen. We sharpened up some lines, sorted out the fit of bumpers and some other repairs for him. The main feature was filling in the sunroof.
We also had to make some rails to go in the roof and then a new headlining panel for inside of the roof. See more in Projects click here:-


Aston Martin DB4 Festalozzi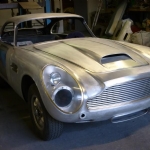 Aston Martin DB4 Series V 'Festalozzi' as it left us recently see more in Projects.
Skilled in restoration, re-creation and fabrication
Quality Craftsmanship Assured
From Vintage to Prototype, Specialist Panel Beaters and Body Engineers.