Welcome To ASR Motor Body Engineering Limited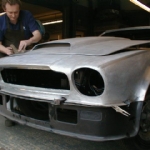 From Vintage to Prototype, Specialist Panel Beaters and Body Engineers
Historic & Vintage bodywork restoration and fabrication
We at ASR are specialist panel beaters and body engineers skilled in restoration, re-creation and fabrication of classic motor vehicle body work and chassis. We pride ourselves on quality craftsmanship and whether you require a repair patch right through to a complete new body we are happy to discuss any project you may have.
Please continue to browse our website for further information, photographs of previous completed projects and contact details.
We are always on the look out for an experienced panel beater to come and join our team. Experience in restoring classic vehicles and fabricating from flat sheet is essential, skill in various forms of welding is desirable, as is the ability to use an English Wheel (Wheeling Machine). Full time and part time hours considered, please don't hesitate to contact us for further information.

Aston Martin V8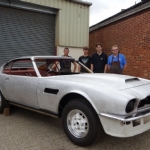 Aston Martin V8 leaving the workshop, click here to see more in Projects!


Aston Martin DB4 Festalozzi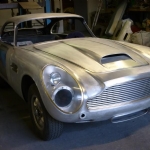 Aston Martin DB4 Series V 'Festalozzi' click here to see more in Projects!.
DBS and V8 Parts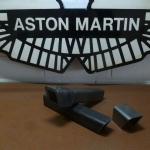 We are always adding to our list of parts that we are able to supply, particularly for V8 and DBS Aston Martins. Including these Jacking Tube reinforcements for late V8 models, Stiffener-Rear Wheel Arches for DBS and V8 and DB door hinges.
To see more of our available Parts click here
See more on our Facebook page click here

(opens in new window)
Skilled in restoration, re-creation and fabrication
Quality Craftsmanship Assured
From Vintage to Prototype, Specialist Panel Beaters and Body Engineers.